Our School
Newton St. Cyres School
FSU (Nursery) Gallery
Cardinality and Counting in Maths
The nursery children were understanding that the cardinal value of a number refers to the quantity, or 'howmanyness' of things it represents.
Christmas Tree Festival in Crediton
Scientist Visit
Scrum Kids 2023
We were delighted that Jared Evans from Scrums Kids returned to lead special PE sessions for our nursery and reception children. His innovative and engaging teaching styles has been a huge success and the children thoroughly enjoy his sessions.
Scrum Kids Sports Day
FSU (Reception) Gallery
Taiko Drumming
Met Office Visit - Science Focus
Class 2 Gallery
Trip to Exmouth (Seaside Topic Link)
Castles History Projects
Look at the fantastic homework projects completed by Class 2 in the spring term- They're absolutely fantastic!
Transport History Projects
Look at the fantastic homework projects completed by Class 2- They're absolutely fantastic!
Baarmy Bethlehem Nativity December 2022
Every year we perform a nativity for friends and family at Newton St. Cyres Church. This provides the perfect backdrop for the Nativity story. The event is always a sell out and everyone is amazed with the performances from our younger members of the school. This year we performed 'Baarmy Bethlehem' where the nativity is retold through the eyes of three sheep; Cheeky, Rascal and Scamp.
Cheeky, Rascal and Scamp the sheep are real party animals! So, when they see Bethlehem filling up, they assume it's for a big celebration and they do not want to miss out! They escape from the flock and make their way into town, but although they find lots of things they love like noise and crowds of people, there is no party.
As they continue their search, they come across all the traditional nativity characters and eventually, in the peaceful, quiet stable they find one enormous reason to celebrate and party!
Class 2 Maths Work
Class 2 Maths Work
Class 3 Gallery
Rainforest Day
Taiko Drumming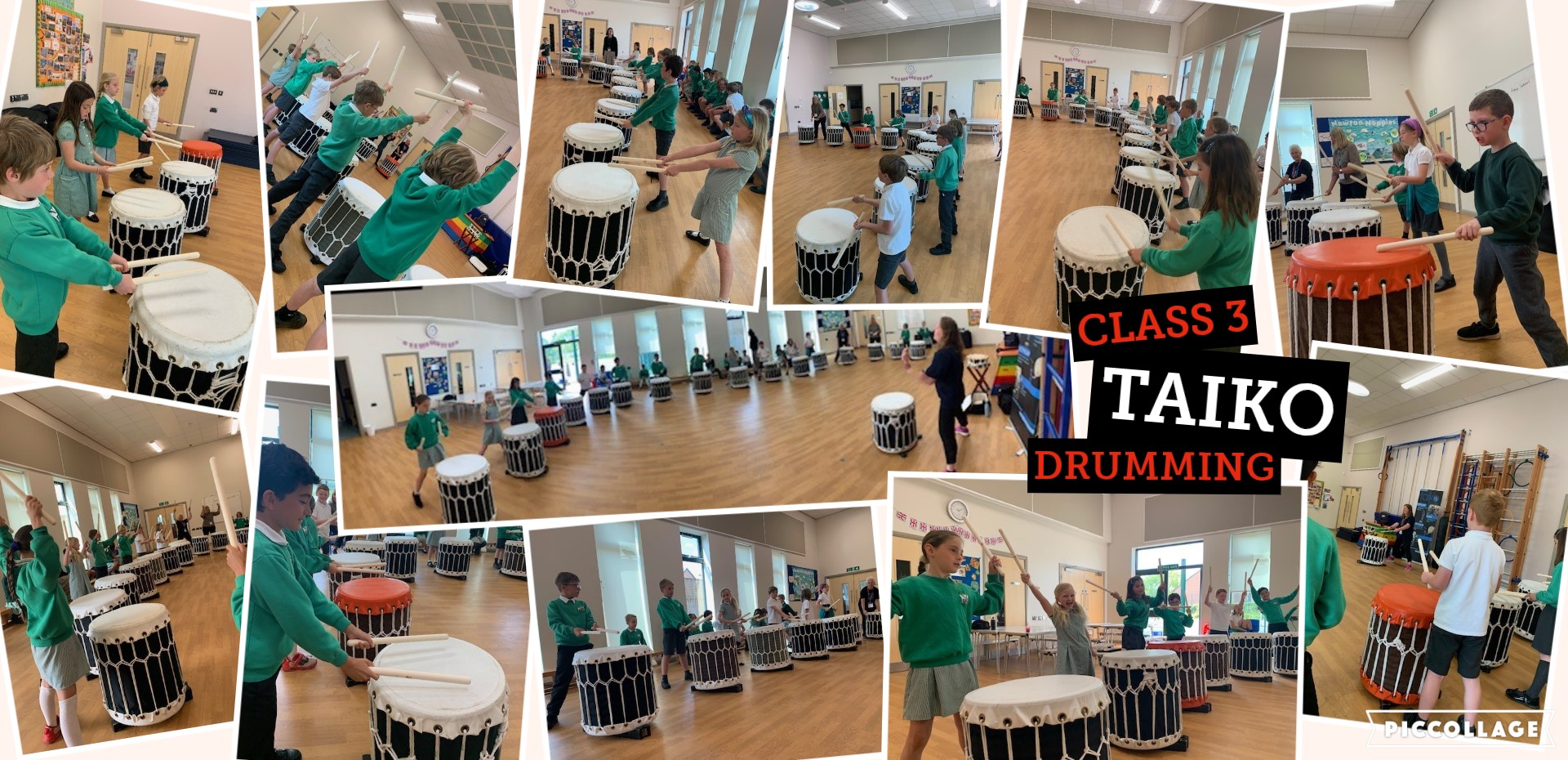 Sports Day
All Around The World - Geography Homework Projects.
All Around The World - Homework Project
Children in class 3 created some very special projects linked to their class topic 'All Around The World'. They had a set amount of time to create their projects, based on a brief which was sent home at the start of the year (PDF above). These were then brought into school and presented to parents as part of class 3's open afternoon.
Anglo Saxon Day - History Focus
Class 3 enjoyed an Anglo Saxon day as their memorable moment to kickstart their historical learning. Through a story teller, they were sent back in time to meet significant Anglo Saxon people as well as looking special artefacts.
Extreme Earth- Geography Focus
Class 3 have been looking closely at natural disasters and have focused on volcanoes. Part of the homework has been to investigate volcanoes and create your own model. These have been shared in school and celebrated.
Roman Soldier Visit -History Focus
Maths Work
Class 4 Gallery
Science- Glass Making Project
Music- Brass
Science- Electricity
Whole School Events
King Charles III Coronation
To celebrate the King's Coronation, we held a special tea party in school and invited all the school to wear red, white or blue. The children all looked fantastic, as did the cakes.
GB Olympic Athlete Visit - Rich Parker
In March, we were delighted to welcome Rich Parker, a GB inline skater into school who talked to the children about elite sport. He shared his skating journey and talked about his involvement in the X Games. He then put the children through their paces with a fitness session which the year 6 children helped to facilitate.
Red Nose Day 2023
In March 2023, we dressed in red to celebrate Red Nose Day. The children spent the day learning about the significance of Red Nose Day and what we can do to help those less fortunate than us. We raised over £100 which has been donated and will hopefully make a big difference.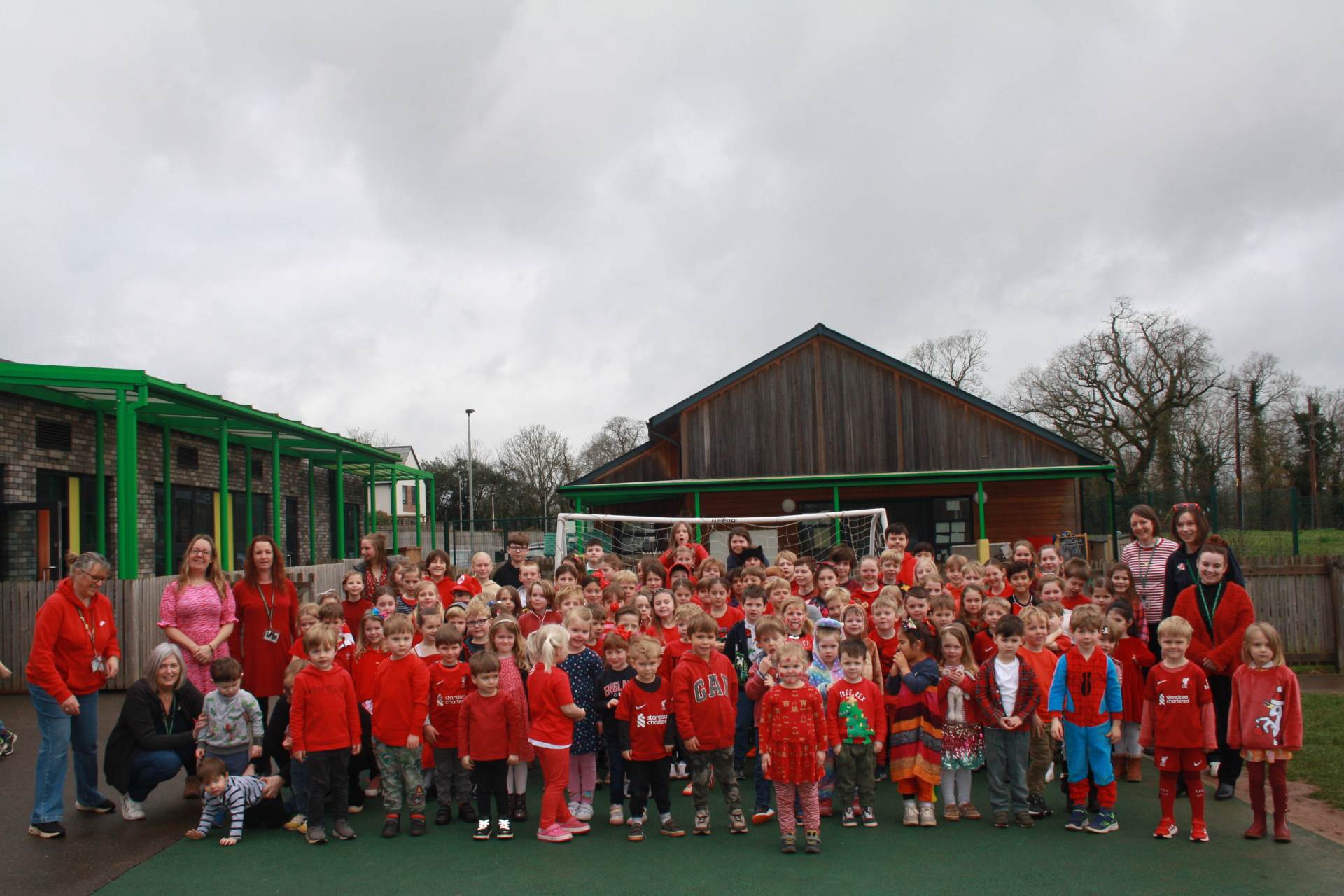 World Book Day 2023
The children all came dressed to school as a 'word' of their choice. There were some very creative costumes and staff and children had great fun guessing everyone's word. There were lots of activities linked to World Book Day completed and in the afternoon, there was a second hand book sale to promote reading across the school. Alongside a refreshments stall, the afternoon raised £400.
Theatre Alibi - The Parcel
We were delighted to welcome Theatre Alibi into school in January. The children were amazed by the performance. You can read more about it below.
A giant mysterious parcel has just arrived and, as if that isn't exciting enough, it soon becomes clear that two people live inside it! They travel around the world, deciding where to go by placing their finger on a map and posting themselves there. They have breathtaking stories to share of magnificent travels, friendships made and the many marvels of the postal service. But how did they come to live in this parcel? Why have they posted themselves here? And where are they off to next?
Come along and meet this intriguing pair, they'll even show you around their astonishing little home. From the outside it may look like a regular package, but once opened it transforms into something quite wondrous, and full of surprises…
Christmas Lunch 2022
The children thoroughly enjoyed their Christmas lunch. The year 6 children were on hand to serve the whole school before settling down in the Studio for their own special lunch served by staff.
NSC Christmas Lunch 2022
Christmas Fair 2022
Our Christmas Fair was a collaborative project between out PTA (FANS) and children in class 4. The children in year 5 and 6 ran the stalls and made a magnificent £375 towards resources for the school.
Hanukkah Assembly with Eran Hovav 2022
We were lucky to be visited by Eran Hovav who led an amazing assembly talking about Hanukkah. He talked to the children about Hanukkah and created some special doughnuts (Sufganiyot) for the children to share. There was a light show as well as candle lighting and the staff and children were really inspired.
Children In Need 2022
In school we ensured that everyone looked 'Spotacular' for Children In Need 2022. For wearing something bright and spotty, children brought in a monetary donation which would go towards supporting those children less fortunate than us. Throughout the day, classes took part in special Children In Need Activities as well as educating themselves about why this day is held and the important role we can play in supporting it.
In reception, the children have been developing their motor skills whilst enjoying a task linked to Children In Need. Using a hammer, they had to carefully chip away at the ice and find some special objects hidden inside. Listen carefully to hear some useful insights from George who worked out other ways to make the ice melt quicker.
/i/video/MVI_1053.mov
Planet Action Workshop
Planet Action inspire a positive and proactive response to the environmental crisis, motivating students to value the natural world and enabling schools to become beacons of change in the wider community via face to face and online Planet Action Workshops.
The Queen's Jubilee 2022 - Street Party
Celebrating Music and Sporting Successes
Exeter Respect Festival 2023
A huge well done to all of our children who attend Karina Garcia's Dance Club after school on Wednesday.
After an evening's rehearsal on Friday, the children performed for a big audience at Exeter's Respect Festival hosted at Belmont Park in Exeter.
They performed Flamenco and Bollywood dances and thoroughly enjoyed wearing traditional costumes for all of these dances.
We are looking forward to dance clubs performance at the end of this term.
KS2 Girls Cricket at Sandford Cricket Club
In May 2023, a selection of KS2 girls visited Sandford Cricket Club to take part in some cricket coaching. They had a wonderful time and are looking forward to putting their new knowledge and skills to the test back at school.
Exmoor Challenge 2023
The biggest congratulations to the 16, year 6 children who tackled the Exmoor Challenge on Saturday May 20th 2023. 16 children over 16 miles is an unbelievable achievement and everyone from NSC is very proud of you all!
Netball Champions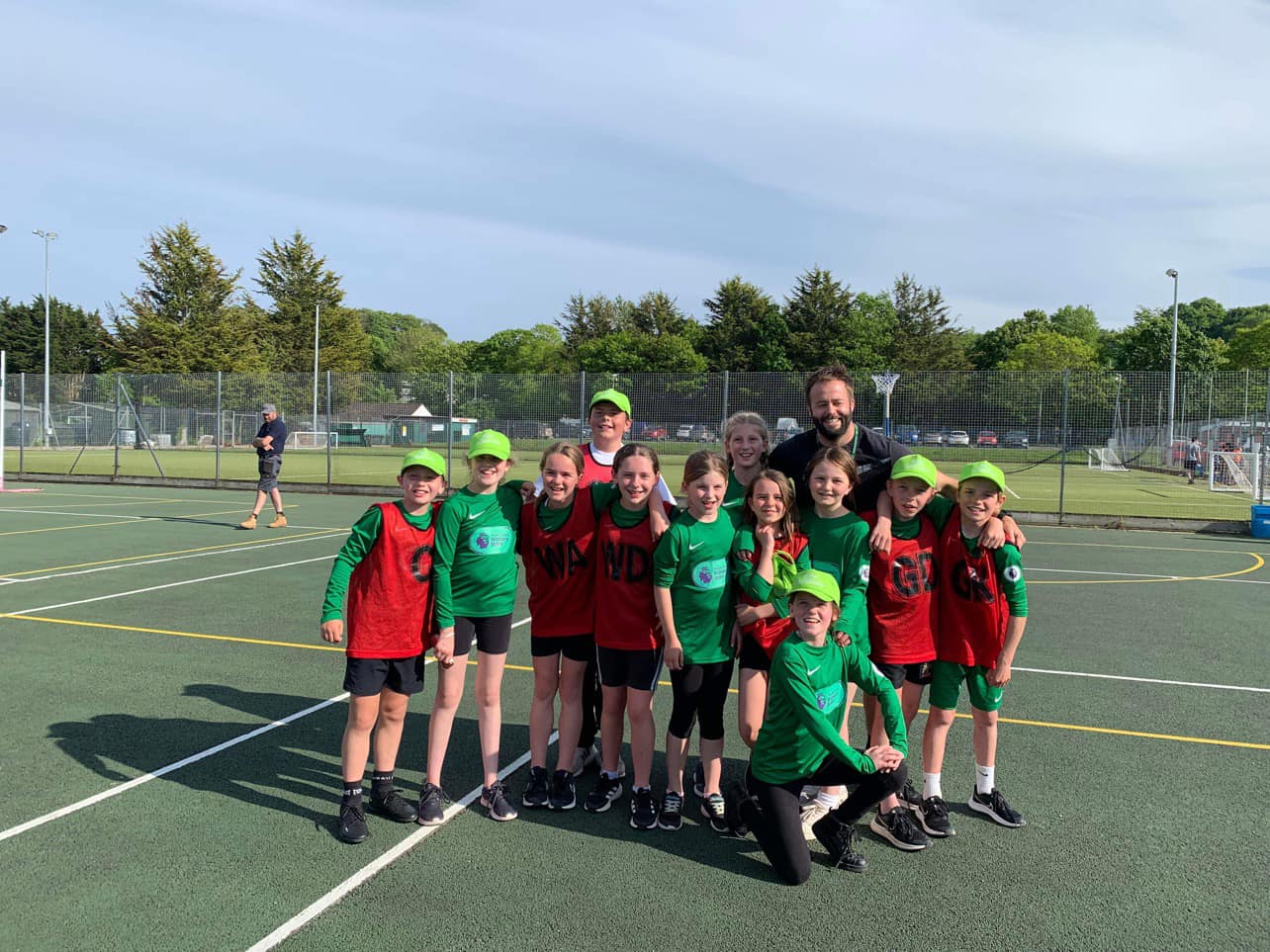 WINNERS!
A huge well done to our netball team who came out victorious against the other federation schools in a special tournament held at Lords Meadow Leisure Centre.
The children from class 4 have been playing netball as part of their PE sessions in school and also revisited their learning from their PE sessions at Lords Meadow from the autumn term.
They showed excellent skills as well as brilliant team work.
Taiko Drumming
In May 2023, we were delighted to be joined by Lucy and Jan from Taiko South West who came into school to lead workshops with the children and run some teacher training. The children thoroughly enjoyed the day and hosted a special assembly at the end of the day.
/i/video/Video.mov
Sports Day 2023
In May 2023, we held our annual sports day for class 2, 3 and 4. In the morning, the children started with field events. This included high jump, javelin throws, long jump as well as agility and accuracy games. In the afternoon, the children travelled to the Rec for the track races.
Dance Club Performance
In the last week of March, we were treated to a dance extravaganza from Karina Gracia Dance's dance club. The children performed brilliantly and showed amazing confidence in front of a large audience.
Spring Term Music Assembly
In March, we hosted a special music assembly where our musicians from across the school played and sang to the rest of the school and their parents. It was amazing to witness the confidence of our pupils and the brilliant progress made this year.
Cross Country Event
We were excited to host a cross country event for all children from reception to year 6. Hosted at the Recreation Ground, a course was carefully mapped out for each year group. Reception and KS1 would run 800m, LKS2 would run 1600m and UKS2 would run 2400m. This was in line with guidance from Sport England. The course was marshalled by parent volunteers and staff and volunteer runners supported the children round the course. All the children did brilliantly and finished with a winners medal.
Girls Football Tournament - Lords Meadow Leisure Centre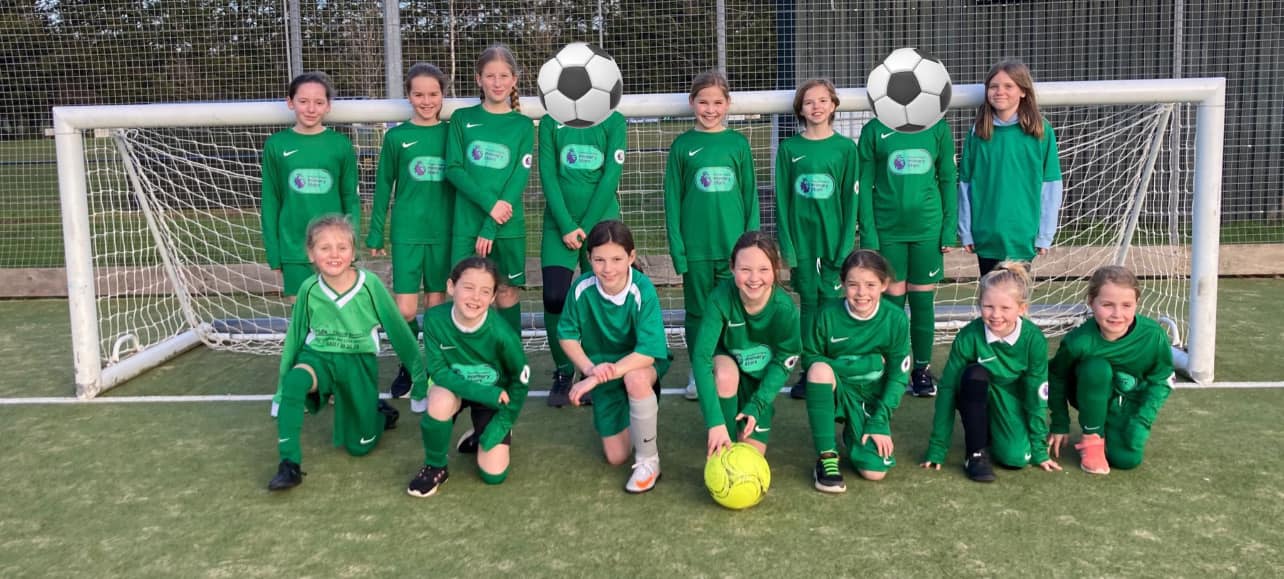 We were delighted to see so many of our KS2 girls who wanted to be involved in the Exe Valley Federation Football Tournament which was hosted at Lords Meadow Leisure Centre.
Many of the girls attend Mr. Hookway's football club after school on a Monday and it was great to see them wear the school kit with pride and represent the school so well.
Lots of the girls scored some brilliant goals and are looking forward to more tournaments in the future.
Tag Rugby Tournament - Thorverton
A huge well done to our brilliant tag rugby team who performed admirably at a recent tag rugby tournament hosted in Thorverton.
The team had been working really hard during Mr. Hookway's after school tag rugby club and transferred these skills on to the pitch, putting in tremendous performances against the other federation schools.
They all showed great spirit and determination and demonstrated great sportsmanship throughout the afternoon.
Swimming Gala Success
On Wednesday 29th January 2020, our swimming team took part in the annual Crediton School's Swimming Gala at Lords Meadow Leisure Centre. All the children swam brilliantly and took home the trophy for overall winners. A huge well done to all the team.
We are very much looking forward to defending the trophy later in 2023 when the school swimming gala will be hosted for the first time since COVID.
Crediton Courier - Swimming Gala Champions
The Bournemouth Symphony Orchestra - Midnight Magic
Children from KS2 were delighted to have the opportunity to travel to The Great Hall at The University of Exeter to watch the Bournemouth Symphony Orchestra. Designed with KS2 students in mind, the thrilling and interactive concert was presented by award-winning composer and conductor, James Redwood. This opportunity truly inspires the next generation of musician and children from KS2 thoroughly enjoyed the concert and joining in with the band.
The Big Sing Event- The Great Hall
Children from NSC represented the school brilliantly at the Big Sing, a concert involving all of the schools in the local community including the Secondary School Queen Elizabeth Academy Trust.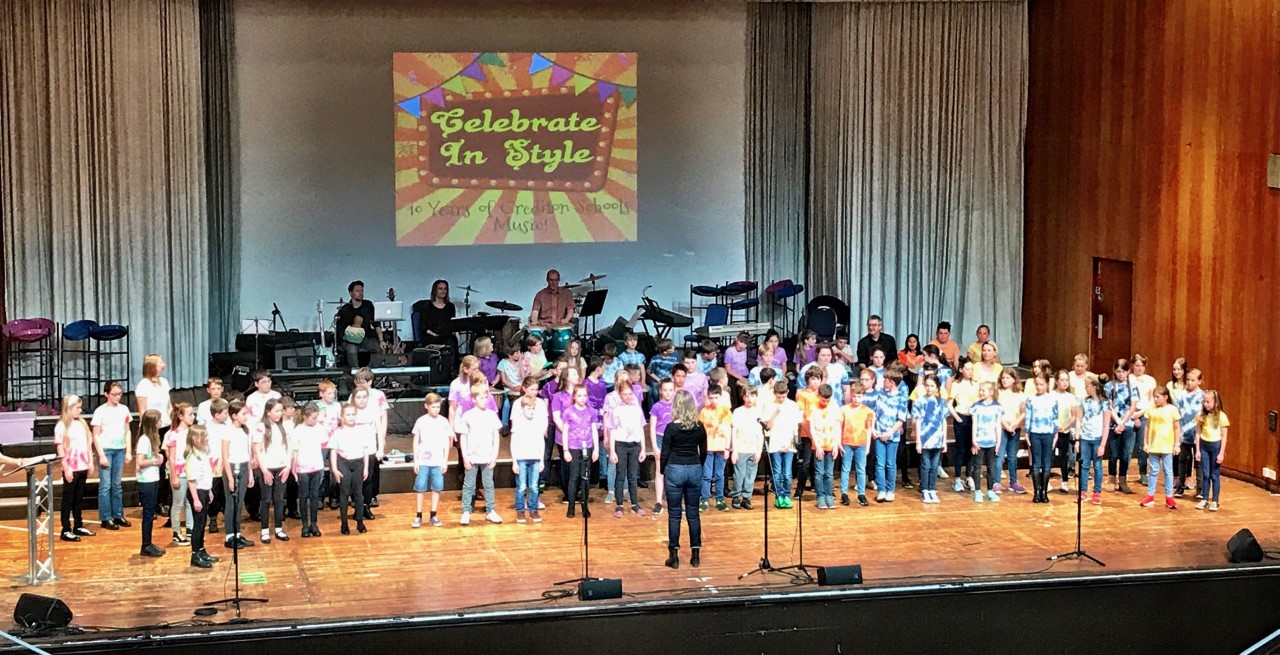 Exe Valley Challenge
The Exe Valley Challenge takes place annually at Isca Academy. It features over 140 teams from schools across Exeter and the surrounding region. After a staggered start from Isca Academy each team will follow a circular route, either a 5, 7 or 10 mile course around the River Exe. The route will not be marked on the ground and teams will have to use basic map reading and orienteering skills.
Residentials

Bracken Tor (Year 3 and Year 4)
At the start of the summer term 2023, year 3 and year 4 headed off to Bracken Tor on Dartmoor with other children from across the federation. They had great fun taking part in a variety of challenging activities which helped them to learn new skills and develop a greater sense of independence.
Bath and Bristol Residential (Year 5)
At the end of the spring term in March 2023, the year 5 children from across the federation set off for a residential to Bath and Bristol. They all had a wonderful time and experienced some wonderful events including; The Roman Baths, SS Great Britain and watching a matinee performance of The King and I at Bristol's Hippodrome.
Barton Hall (Year 6)