Sports Reports
CREDITON TAG RUGBY VALUES FESTIVAL - Crediton Rugby Club - Wednesday 21st June
On Wednesday, Mrs Barron, Mr Kenchington and Mr Holding had the pleasure of taking 25 children from Classes 3 and 4 to the Tag Rugby Festival at Crediton Rugby Club. The standard of rugby on display was fantastic, with 20 different teams taking part. Thorverton were represented by three different teams and we could not have been prouder of the children! Despite competing against older children and larger schools, our mixed Year 4 and 5 team of Freddie, Ben, Jacob, Isaac, Wren W, Daisy, Wren B and Eliza finished second in the group of four and then narrowly lost in the plate competition semi-final to eventual plate winners, Cheriton Fitzpaine. Our mixed Year 5 and 6 team had a difficult group to start with, but showed fantastic persistence and resilience to get all the way through to the final of the bowl competition, where they lost out by just one try to Haywards. A huge well done to Regan, Phoeynx, Ashton, George S, Charlie, Bella T, Sufia, Evie and Emily W.
Last but certainly not least, a huge congratulation to our Year 6 team consisting of Rowan, Etienne, George M, Harry, Sid, Bonnie, Sophie and Emily C, who won every game in their group to progress into the semi-finals of the cup competition, where they beat Haywards to qualify for the final. It was an Exe Valley derby in the final as they took on a Brampford Speke side who had also won all five of their previous games. The first half was very close, with both sides scoring three tries each. In the second half, the Thorverton side showed both their defensive and attacking qualities, eventually winning the game – and the competition as a whole – by five tries to three and bringing the Crediton Tag Rugby Shield and Cup back to school with them!
DEVON COUNTDOWN CRICKET COMPETITION - Whimple Cricket Club - Friday 16th June
Sophie, Freddie, Ashton, Phoeynx, George S, Rupert, Emily W and Sid represented the school at the Dynamos Countdown Cricket Competition at Whimple Cricket Club on Friday. It was a brilliant day, packed with non-stop cricket! There were over 20 different schools taking part and each team played four different games. Our team did fantastically well to win two of the four games that they played – a huge well done to all of the players and a huge thank you to parents and other family members who came along to offer their support and help with transport.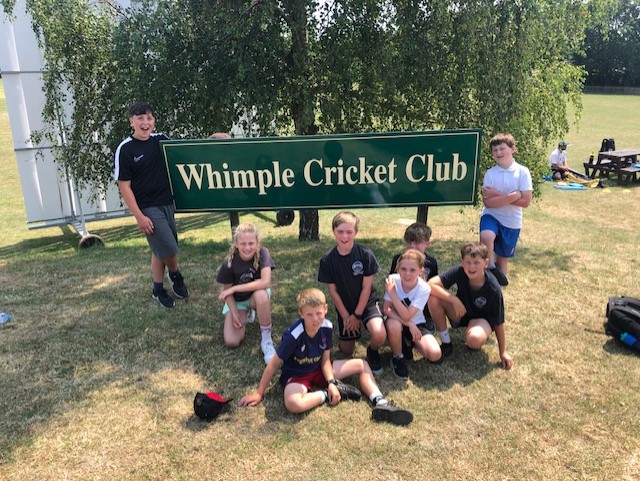 GIRLS' CRICKET FESTIVAL - Thorverton Cricket Club - Friday 26th May
How fantastic to see so many girls involved in cricket this afternoon at Thorverton Cricket Club! The children all enjoyed taking part in a range of activities aimed at improving cricketing skills. They were joined by the girls from Silverton and Brampford Speke schools and had a fantastic afternoon cricketing in the sunshine!
EXMOOR CHALLENGE - Dulverton - Saturday 20th May
EVF KS2 NETBALL FESTIVAL - Lords Meadow - Wednesday 17th May
On Thursday, Mrs Nichols and I had the pleasure of accompanying 16 children from across Class 3 and 4 to the Exe Valley Netball Tournament at Lords Meadow. It was a wonderful afternoon with lovely weather and a fantastic standard of netball on display. Well done to our Year 3 and 4 team did a fantastic job competing against much older children and even managed to draw one of their games!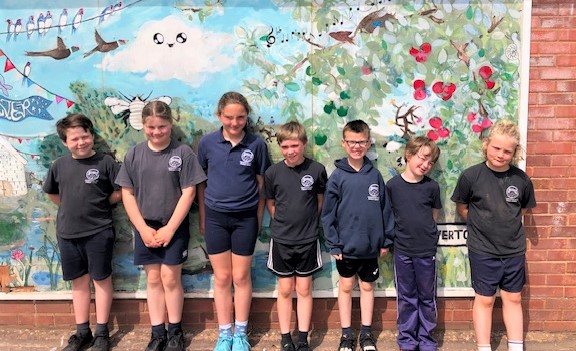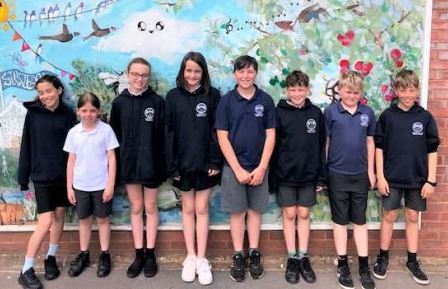 Our Year 5 and 6 team almost matched their win at the Autumn term EVF Tag Rugby Tournament, but this time narrowly missed out on victory, losing in the final to Newton St Cyres. A big well done to Newton St Cyres for the win and to our Year 5 and 6 team, who qualified for the final by winning their group. A huge thank you to Mrs Nichols and Claire Pratt for volunteering their time to coach the teams and umpire the matches and thanks to the parents and carers who helped with transport and came along to support.
EXETER CITY WOMEN VS PORTISHEAD TOWN - Her Game Too! - Sunday 12th March
On Sunday 12th March, we took over 100 members of our school community to watch Exeter City Women's game against Portishead Town. The game was held at St James' Park as part of Exeter City's 'Her Game Too' initiative. It was an amazing occasion, with a record-breaking crowd of almost 3,000 spectators present to see Exeter win 6-0. Our children returned to school on Monday really inspired by what they had seen and the football pitch has been very busy since!
EXE VALLEY SWIMMING GALA CHAMPIONS! - Friday 8th December 2022
On Friday 8th December, we held a Swimming Gala at Lords Meadow as part of our final Friday Sports session. All of the children in Class 4 took part in at least 2 different races / events. Some of the events took place across widths and some of them across lengths. We are very proud to say that our two teams won both the widths and lengths competition! A super effort from all of our brilliant swimmers.
EXE VALLEY FOOTBALL WORLD CUP! - Thursday 1st December 2022
On Thursday 1st December we took part in the Exe Valley Football World Cup on the astroturf pitches at Lords Meadow. We played matches against, Brampford, Cheriton, Newton St Cyres and Silverton. We lost one game, drew two games and won two games - this meant that we finished in 3rd place overall! Our team was Sid, Harry, Rowan, Etienne, George, Phoeynx, Ben, Freddie, Emily W, Florence and Wren W. We missed out on a place in the final by just 3 points. Brampford Speke beat Sandford in the final 2-1. It was a really fun tournament and got better and better each game.
TAG TOURNAMENT CHAMPIONS - Thursday 13th October 2022
On Thursday 13th October, we played in the Exe Valley Tag Rugby tournament. Our team was Harry, Etienne, Sid, Rowan, George M, Daisy, Bonnie, Sophie, Sufia, Bella and Emily C. Our first game was against Sandford and we were all feeling nervous but ready to play! We started off well by winning the kick off and thanks to two tries from the lightning quick Sid we won 3-0. The second game was against Brampford and it was a thrilling game with six tries scored. It ended up 4-2 to Thorverton. Daisy Emily and Bella did some brilliant ball carrying to get us up the pitch and Sufia was excellent in defence.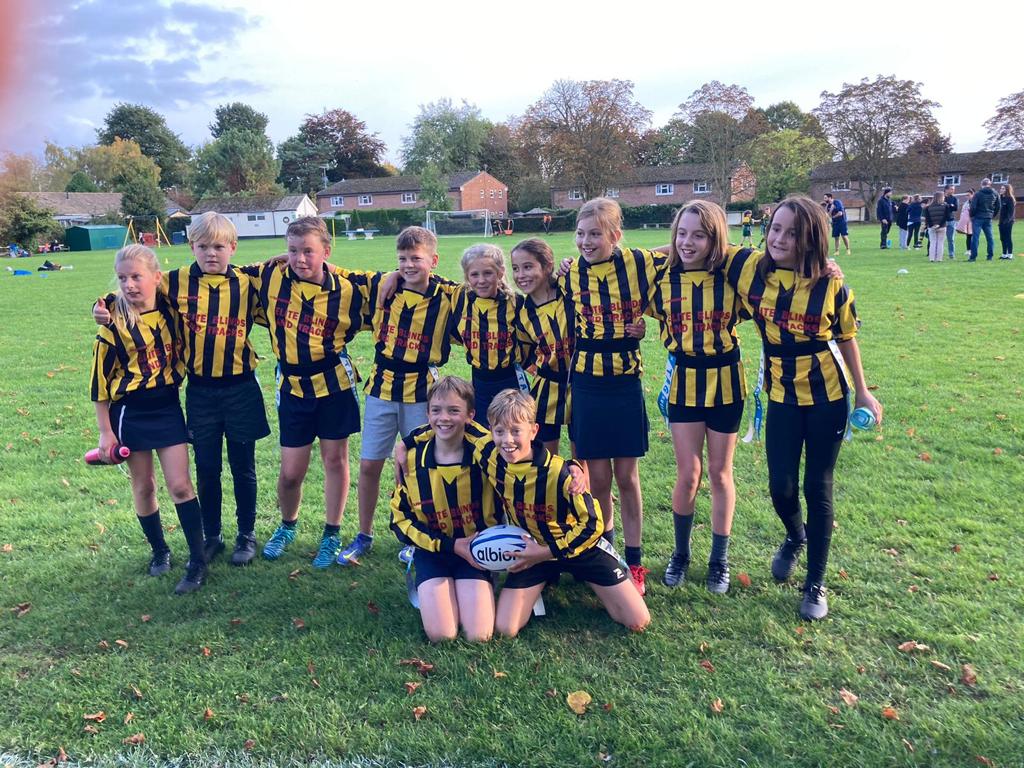 The third match was against Cheriton and we were getting very excited because we realised we had a good chance of winning the tournament. Little did we know, Cheriton were the toughest team yet. A really close game finished 3-3 with George M equalising right at the end, with an excellent try. The next game was against Newton – we were feeling nervous because they had won all of their games. We raced into a two try lead but Newton fought back. With a few minutes left and some brilliant tagging from Sophie, Rowan and Bonnie, Thorverton won the ball close to their own try line and Harry Laskey ran the length of the pitch to score a super try! Our final match was against Silverton. Etienne started brilliantly and scored two tries to give us the lead and we went on to win 4-1 and take the trophy! We all felt excited and really proud that we had won.
By Etienne and Harry